Production DFW & the Fabric of Dreams
Premiere: Basel, March 2023
Production DFW – Catherine Habasque
Premiere: Basel, September 2022
NEW CLASSICS & ITS CABARET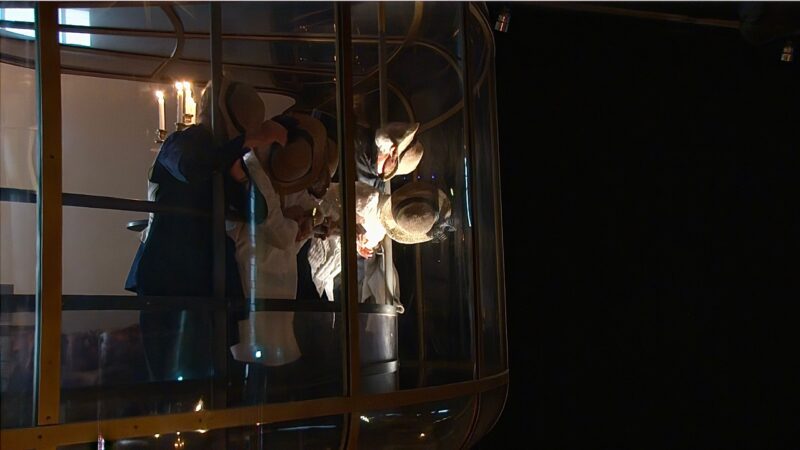 Production Catherine Habasque
Premiere: Basel, June 2022
Production DFW – Catherine Habasque
Premiere: Basel, October 2021
Production DFW – Catherine Habasque
Premiere: Basel, November 2020
Production DFW – Catherine Habasque
Premiere: Basel, November 2019
Production DFW – Catherine Habasque
Premiere: Basel, June 2019
Production: DFW – Catherine Habasque
Premiere: Basel, November 2018
STEP OFF 2018 - In her head
Production: DFW – Catherine Habasque
Premiere: Basel, May 2018
EINIGE TODSÜNDEN (A few deadly sins)
Production: DFW – Catherine Habasque
Premiere: Basel, April 2017
Production: DFW – Catherine Habasque
Premiere: Basel, Nov. 2016
IF MUSIC BE THE FOOD OF LOVE
Production: DFW – Catherine Habasque
Premiere: Basel, March 2016
VIOLETTA, SIMONE ET MOI - Variations sur le thème de Traviata
Production: Catherine Habasque
Premiere: Basel, Nov. 2015
Performed in: International Dance Festival "Madrid en Danza", Dec. 2016
AND I HEARD SOMEBODY CRYING...
Production: Catherine Habasque
Premiere: Tanzart Ost West Festival 2014
Production: Die Theater Chemnitz
Premiere: Theater Chemnitz 2012
(…) In those dance images the breath of the human world is blowing and yet the Kaleidoscope-like
sequence of the scenes has a pace that practically takes one's breath away (…) FREIE PRESSE 02.02.2012
The impulses are so unusual that they lead us straight to the collection of our own consciousness and leave us wandering through the museum of our own head long after we have left the theatre. (…) BORIS MICHAEL GRUHL
The choreography by Catherine Habasque is hypnotizing and leads us into a labyrinthine gallery with fragments of memories, fears, and desires. TANZNETZ.de
More about: https://catherine-habasque.ch/dr-emmrich-1849/
Production: Die Theater Chemnitz
Premiere: Theater Chemnitz 2010
The production of Dominik Wilgenbus mesmerizes the audience with spirited turbulences, and the choreography of Catherine Habasque takes you away into a world of emotional depth that goes under your skin. www.FREIEPRESSE.DE – 11.10.2010
The production team is enhanced by the renowned choreographer Catherine Habasque. Her choreography enables the dancers to intensify the emotions of the characters in the most  impressive way. SACHSEN FERNSEHEN – 11.10.2010
ENTRE NOUS / ENTRE NOUS, Repli
Production: Catherine Habasque
Premiere: Theater Roxy Birsfelden 2010
Full evening HIMMEL UND HÖLLE (production Theater Basel 2007) I PIECES FOR the BALLET BASEL (2003,2004,2005)
(..) Catherine Habasque creates with Bouton sur le nez a poetic Children's history. The choreographer experiments with different perspectives and spatial dimensions. Beautifully danced and scenic skillfully arranged, the piece fascinates by its clever construction and refined humour. (…) 
BADISCHE ZEITUNG
(…) Nostalgy invades the stage. It reminds of Ingmar Bergman's  Fanny  and Alexandre, the mood translated into dance. Telling a story in movement is a challenge. Catherine Habasque masters it in a poetic way. Her piece gives space for between sounds. Unconventional movement create the atmosphere without the  slightest suspicion of kitsch.  (…).
BASLER ZEITUNG